OziWay Software
oziWay
Quick Waypoints for OziExplorer
OziWay – Quick Waypoints for OziExplorer allows a waypoint to be added by pressing only a key on the keypad. Any of the numbers can be assigned to a different icon.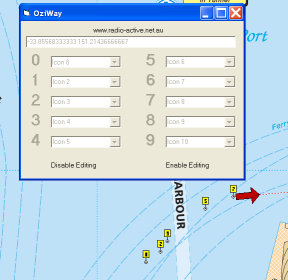 In order to use the program
Start OziExploer and start using the GPS as you would normally
Start OziWay
Edit any waypoints as required.
Select Disable Editing
press any number key to add a waypoint.
Advanced Version
Radioactive Networks will soon be releasing an advanced version of the OziWay software that will upload the waypoints to the TeamTrack server, or to a GIS System.
Download
You can download a copy of OziWay from here.
FREEWARE
This software was written following a request by a person who needed this software, and felt that it should be available for others. Radioactive Networks have therefore released this product into the public domain.