Ingleburn High Class of 1988
 10 YEARS!!!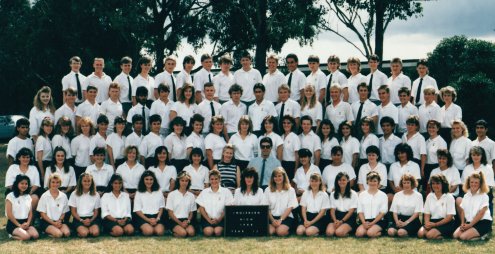 The way we were – in 1988.
---
Back Row: Darryl Smith. Jason Porter. Julian Griffiths. Samantha Joel. Shane Lukic. Greg Tyler. Stephen Fernie. James Hill. John Millis. Scott Cryer. Lino Schwenke. Jason Oldridge. Lucas Clarke. Karen Homer. Alan Swan. Shane Hughes. Jason King.
2nd Top Row. Sarah Shevlin. Dave Shappard. Andrew Huckstepp. Dave Love. Ajit Sarva. Garry Gersak. Jocelyn Ashdown. Peter Childs. Jason Cunningham. Bernard Honore. Guy Haberley. Kylie Newington. Todd Miladinovic.
3rd Top Row. Louie Khamas. Susan Nutt. Katie Povall. Amanda Elston. Jason Moon. Josie Schweizer. Sok-Kheng May. Patricia Mylonas. Kellie Payne. Joanne Gaffney. Sharon Dunn. Karen Chandler. Alayne Phillips. Cathie Prince. Darius Gear. Noeline Goulstone. Alex Narvia. Tanya Miflin. Samoeum Chuon. Natalie Grimes. Heather Grant. Katja Hagglund. Ricardo Mora
Seated. Darleen Meylan. Suzanne Evans. Melanie David. Carolyn Dwyer. Charmaine Harper. Vera Stoppani. Mrs O'Sullivan. Mr Hill. Diane Nemeth. Shireen Martin. Rachel Dale. Marina Furnari. Justine Stevenson. Robyn Reed.
Kneeling. Helen Nguyen. Nicole Roger. Kylie Hartshorne. Rhoda Martin. Michelle Mortlock. Sarah Heathcote. Joanne King. Julia Birch. Ariane Blanch. Leisa Baker. Julie Rolph. Christine Gorton. Marion Fotheringham. Lisa Rowley
Not Present. Michael Edwards. Mohammed Koya. Graham Marshal
A
POEM

As you wander down the track 




Spare a thought for school 




though it seemed you were on the rack 




Well Done, you kept your cool 




 

Year 12 Farewell Cake
---