OziAPRS
OziAPRS has been upgraded

Registration Code
Whilst I have been asking for $20 for the software, it is no longer being maintained. Therefore I am now releasing the registration code. If you want to donate let me know, but don't feel an obligation to. The details for the registration code are:
Your registered Email Address is OZIAPRS and your Registration Key is 9bb485ed001F. Please enter these into the Registration Menu of the Software Product. This is for OziAPRS. NetAPRS does not need a rego
Dateline: 2-May-2004.
In the last few weeks, we at Radioactive Networks have released the
successor to our flagship OziAPRS software – a program called netAPRS.
Whilst we have no desire to stop distributing OziAPRS, it is our intent to
stop active development of the program to concentrate on netAPRS.
We will still be maintaining and supporting both products until further notice.
So if you are using OziAPRS, feel free to continue using it. Or upgrade. It
is up to you.
oziAPRS



Distributed Positioning for OziExplorer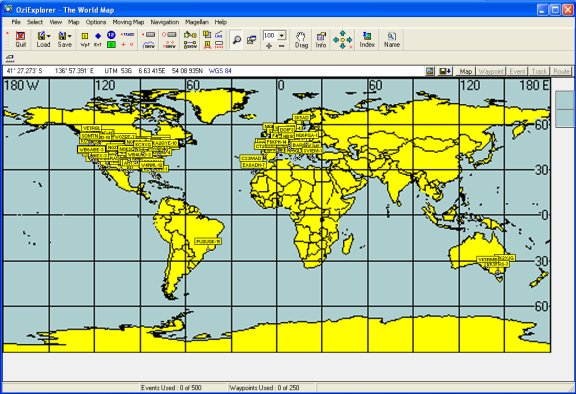 OziAPRS – APRS for OziExplorer
for OziExplorer that allows positions created on one OziExplorer terminal to
appear on all other OziExplorer terminals on the network.
View a screen dump HERE
Looking for an in-car GPS/GPRS tracking unit with display? If so click on
the link to our In-Car Tracking Unit and
Message Terminal.
Radioactive Networks then worked out that getting positions from
other computers running the OziExplorer software did not provide a very good
incentive to invest in the software, so we extended it to allow GPS
receivers in the field to send their data back directly to the OziAPRS
network. This would include devices such as


| | |
| --- | --- |
| | |
| | WMCS M110 GPRS Tracking Unit |
| | Byonics TinyTrak III Radio Tracking Modem |
| | Any AX25 radio modem |
| | Almost any TCP/IP wireless GPS units |
| | Almost any laptop with a GPS and wireless Internet |
| | No TNC needed with the AGWPE interface |
| | Accepts data from WinCE trackers thanks to NetGPS |
OziAPRS is a part of a FULL GIS system that allows moving objects to be
tracked in real time and displayed on networked computers. The software will
soon have the ability to contact other OziAPRS stations and track their
positions in real time
Capabilities



The capabilities of OziAPRS include :-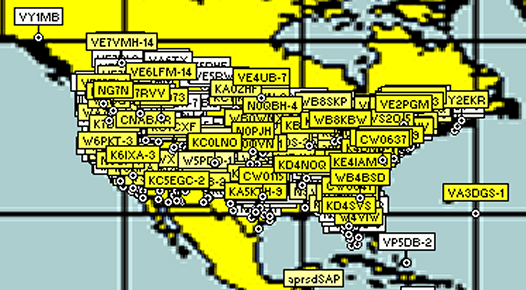 Display positions in OziExplorer gathered over the Internet


Distribute GPS positions from GPS units attached to OziExplorer


Operate as a server for other OziAPRS clients to connect creating a GPS
position network.


Downloads APRS positions from APRS compliant internet servers


Track any internet position as a TRACK in OziExplorer



Display internet positions in sortable table format.



Handle MAP files>50MB and zoom from 25% to 800% and a large number of
map projections and user calibration points
The graphic shown on this page is a screendump of the results of the integration
with OziExplorer and OziAPRS.
Eventually we hope to offer full messaging
support in this software – although the implementation of that may be
delayed due for a number of reasons.
One issue is how to move the positioning data around. Radio Modems work
well, but this is not within the capabilities of most organisations. But
there are other options. GPRS is a good
way, ham radio works. SMS works, but is expensive. If you can move data
around mobile, then you can use this.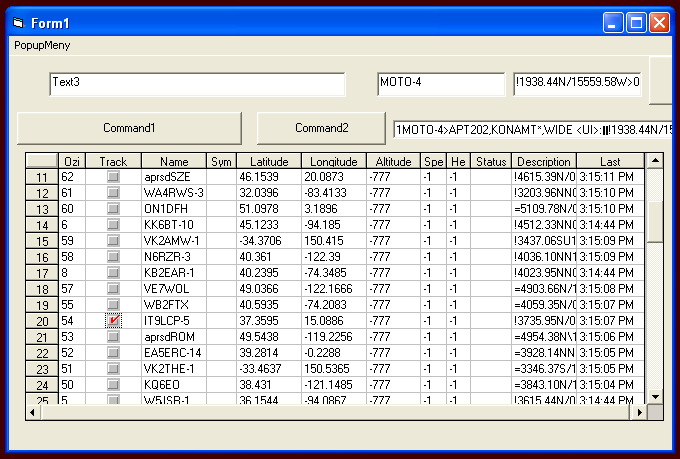 Beta Test Software



The OziAPRS software add-on for OziExplorer is available for
non-commercial personal use for US$20/copy.
Commercial licenses are available by contacting the author directly.
WARNINGI have had a report that under Windows 98 that the versions of shdocvw.dll and
shdoc401.dll were not compatable. I have removed shdocvw.dll from the
install so that should fix things.
Downloads


You must be running the a modern copy of OziExplorer, version 3.95.2
or better
At the moment I am unable to include the date of the lastest modified file
on this page. If you would like to be informed when new versions are
available please email us.
Links to the OziExplorer files can be found
here.
Updates



If you are interested in getting updates when this software changes, please
send an email to us by clicking here. Please also let us know
if you need specific features included in this product.
Limitations



Please note that OziExplorer does not correctly deal with more
than 1000 uploaded waypoints.
If you would like to make a donation to assist in the development of this
product please click on the button below.
The Entire OziAPRS Suite



The OziAPRS interface is just the first component of an entire system that
will make complex applications possible. Other components and extensions
include:-



Client and Server connections between copies of OziExplorer, so that
all the users in a cluster can combine their current positions to be
displayed on each computer in a cluster, and have the data uploaded to other
clusters


The ability to save the positions over time in an Access Database, and
play this data back as required.



The ability to integrate to specialized GPRS/GPS standalone tracking
devices
Other OziExplorer Utilities



There are many other utilities available for OziExplorer. For more details
of these utilities you can have a look at
http://members.shaw.ca/davepatton/software.html