Weather
The Radioactive Networks WeatherTrak GPRS and CDMA is an advanced weather station device available exclusively through Radioactive Networks. In association with a Peet Brothers Weather Station, WeatherTrack will record the weather 24 hours a day and send the data to the internet via GPRS or CDMA. Unlike most solutions, our unique product allows you to register your weather station with NOAA allowing your weather station to become an official Weather Station to be used for weather reporting and forecasting world wide.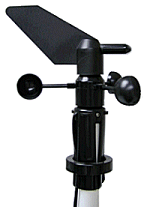 Current Weather
Outdoor Temp
19C
Wind
12 KP/H South
Rainfall (Since Midnight)
4mm
Barometer
1012 hPa Rising
Using our "WeatherTrack Web" Applet, your live weather data can then be shown on your Web Site in real time. WeatherTrak is based on our successful HawkTrack GPS tracker with custom firmware for weather reporting requirements. By being wireless, you do not need to worry about fragile cable infrastructure. Just add power and a weather station, and things just work.
If you are interested in this product, please contact us to speak to one of our consultants