HawkTrack GPRS and CDMA
The HawkTrak GPRS and CDMA is an advanced GPS tracking unit designed right here at Radioactive Networks. We believe that this unit will provide for not only your present needs, but will be upgradable to meet your future requirements.
The HawkTrak is a state of the art tracking unit, ready to be upgraded to whatever tomorrow brings. As the designers of the HawkTrak, only Radioactive Networks can provide you with the unique features your business needs.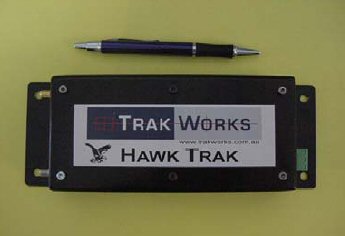 The HawkTrak is not just a Tracking Unit. It is a suite of products that are designed to work together and provide a product direction moving to the future. With a seperate plug-in processor board, we are able to significantly increase the capabilities of the unit whilst maintaining your core investment in hardware and software. As new processors come in and memory gets cheaper you can upgrade the processor module to gain new capabilities. View the HawkTrak Brochure
HawkTrak
Power Supply
Supply voltage range: 9 - 26 V d.c. Filtered, <10W Peak <4W Average

Radio Specifications
Frequency range: 850 MHz and 1900 MHz available on demand comment.
Maximum RF output Power: 2 W (900 MHz) and 1 W (1800 MHz)
Antenna impedance 50 & Static sensitivity Better than -102 dBm

Sim Card Reader
Voltage type: Support for 3 V and 5 V SIM cards

Mechanical Specification
Size: 214L X 80W X 33H mm
Weight: 300 g

Enviromental Specifications
Operating temperature Range: -30 °C to +75 °C
Storage temperature Range: -40 °C to +85 °C
Relative humidity 5 - 95 %, non-condensing
Bump Acceleration: 250 m/s²
Free fall transportation: 1.2 m

Certification
Directive 1999/5/EC EMC:EN 301 489-1 EMC:EN 301 489-7
Safety: EN 61000-4-2 GSM 3GPP TS 51.010-1
Tested according to GCF-CC

Serial Interface

RJ-45 x 2
10 Pin Plug (Power,Ground,8 I/O Pins)

Aerial Connectors

GPRS antenna - SMA
GPS antenna - SMA

GPS

Receiver:
12 parallel channel GPS receiver continuously tracks and uses up to 12 satellites to compute and update your position

Acquisition times:
Reacquisition: Less than 2 seconds
Warm: Approximately 15 seconds
Cold: Approximately 45 seconds
AutoLocater: 5 minutes
SkySearch: 5 minutes
Update rate: 1 to 900 seconds between updates; programmable in 1
second increments

GPS accuracy:
Position: 3-5 meters, 95% typical
Position: < 3 meters, 95% typical
Velocity: 0.1 knot RMS steady state
Dynamics: 999 knots, 6g's
Temperature: -30° to 80°C