Icom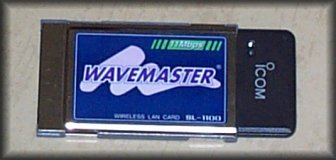 I was at the Wyong (Sydney, Australia) Ham Radio field day yesterday and found that ICOM was selling an
ICOM SL-1100 for A$150. This is about the cheapest that I have seen anyehere in Oz for an 802.11 card.
I had to get one…
The box was only about 4″ x 1.25″ x 5.5″… This is unusual for a product that is in Australia. There was
little room in the box other than for FOUR floppy disks, the card and some paperwork.
Contents of the package
Four floppy disks – including software for Windows ME
802.11 Card – PCMCIA Type II
Probably a regulatory label – Black writing on a silver background – all in japanese
Instruction Manual in japanese- 4 A7 pages (A5 is 1/2 A4, A6 is 1/2 A5, A7 is 1/2 A6)
Product Registration in Japanese
Three pages of duplicates that include model number and serial number. It appears that it could be something like registering the device with the japanese equivalent of the FCC
A4 instructions on how to install the cards (in japanese) with Windows ME and Windows98
I found a copy of the software by searching google for WindowsXP. Once I installed the software
(driver and utility) things worked sort of. The utility software plots RX, TX speeds, and error
rates. This is needed to set the mode of the driver too. You must enter the name of the access
point by hand. The driver is out of date, and not signed. More importantly under XP it is a
NETWORK driver, not a WIRELESS NETWORK driver.
There are TX and RC lights on the antenna… And they are only on when needed, which is different from my D-Link card…