Hotel Guide 2003
Welcome to our 802.11 Hotel Guide from 2003.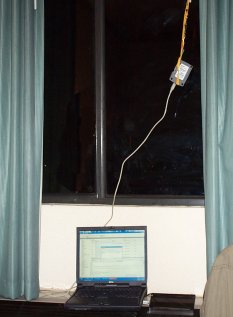 Radioactive Networks staff need at times to travel all around the
world – and need to stay in touch at all times. Usually this means dial-up
internet access – and we have used this very successfully in the past.
Visiting the USA we have found that BudgetDialup.com provides excellent
service – but it is still dial-up. The problem is not the speed, but the
hotel charges.
Hotel Charges are often up to US$1.00 per call, for a local call. In
Australia and New Zealand, charges are also often about $1.00 per call. This
can ge expensive. So wireless can be a option. So can in-room broadband
where available.
Hollywood
This picture is from my hotel room in the Holiday Inn on North Highland Ave,
Hollywood, looking south onto Highland Ave. I have stayed in this hotel a
few times, and they are not bad. I have definitely stayed in worse hotels.
Their phone system is amongst the worse I have dealt with – at least in
terms of adding illegal charges. They state that they charge long distance
charges for any call that is not in the same area code as the hotel, or for
any call more than four miles from the hotel.
This is actually illegal since Los Angeles has a number of area codes, and
calls to a different area code may be local. Given the cost of dial-up I
used my D-Link USB 802.11 adapter to obtain a wireless signal. What I found
was that the signal was maginal at best. To solve this problem I attached
the adapter to the curtain with a lanyard that I had in my bag to give away
as a gift. This allowed me to surf the net at essentially broadband speeds.
The only issue was that I needed to find the outgoing SMTP server. I used
TRACEROUTE to work out who the carrier was, and then looked at their www
site to work out what server I needed to use. I have no idea who was
providing internet access to me, but I would have paid them something for it
if I did know who it was.
Wellington, New Zealand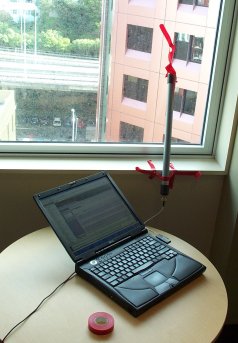 Wellington is a wired city, with an extensive city-wide network called
cafenet.co.nz. Looking at the access point list I determined that the hotel
next to mine several doors down had a couple of wireless access points. This
time I had forgottne to bring a USB cable for the D-Link – but I did bring
my Orinoco card from Avaya, and just happened to have an 8 dB gain antenna
with me too.
This worked OK, but only when it was on one corner of the window – since the
path of the wireless signal was not very good. I attached the antenna to the
window using some electrical tape – lots of it. I was sure to take that down
when the housekeeper came in, since I had no idea how they would react. For
some reason this setup would not work with a 1m extension cable for the
coax, so I suspect that the wireless link was only barely there.
Wireless access cost NZ$20 for 120 MBytes download. This was tons for the
time I was there – I only used about 40 MBytes. The advantage was that I
could also go to Cafes in the city and have a coffee whilst working.
Important things to take
USB Wireless Card and LONG USB cable
Wireless Card with N Connector
8 dBi Antenna
Electrical Tape